Safe operation of heaters (including explosion proof/hazardous areas) equipped with these enclosures depends on employment of electrical wiring meeting National Electric Code and limiting maximum operating temperatures (including temperatures on outside of vessel, piping, flanges, screw-plugs, enclosures and other heat conducting parts) as dictated by flammable liquids, vapors, or gases present. Approved pressure and/or temperature limiting controls must be used to assure safe operation in the event of system malfunction.
Common Flanged Immersion Heaters-Nema Enclosure Types–See Below:

NEMA 1
- General purpose, sheet metal, painted with enamel.

NEMA 4
- Moisture Resistant. These enclosures constructed for either indoor or outdoor use to provide a degree of protection to personnel against access to hazardous parts; to provide a degree of protection of the equipment inside the enclosure against ingress of solid foreign objects (falling dirt and windblown dust); to provide a degree of protection with respect to harmful effects on the equipment due to the ingress of water (rain, sleet, snow, splashing water, and hose directed water); and that will be undamaged by the external formation of ice on the enclosure.

NEMA 4X
- Enclosures are primarily intended for indoor/outdoor use and offer a superior level of protection from corrosion and extreme environments. Provide a degree of protection against windblown dust and rain, splashing water, hose directed water, and damage from external ice formation.

NEMA 7
- Explosion Proof Enclosures are designed to contain an internal explosion without causing an external hazard. These enclosures are intended for indoor use in hazardous locations classified as Class I, Division I, Groups A,B,C, or D.
Grounding Connector Standard - A solid terminal connector is standard on all NPH immersion heaters insuring positive ground and personal safety.
Special Flanged Immersion Heaters-Features Available:
Kilowatt Ratings - 500 KW and above available
Flanges:
Materials
- 316, 321, 347 stainless steel. Inconel, Incoloy
Ratings
- 300 lb. up to 2500 lb., pressure classes available
Sizes
- 10" , 12", 14", 16", and 18" available. Please contact NPH for other materials or ratings.
Elements Materials
- 316, 321, 347 stainless steel. Inconel. Other materials available, please contact NPH
Other Features
- ASME Sections I, IV, and VIII designed and certified. Baffles on elements to distribute flow. Passivation on stainless steel. Immersion lengths up to 240". Underwriters Laboratories U.L./CSA listing available. Consult NPH.
National Plastic Heater Corrosion Policy:
NPH does not warrant any of its flanged immersion heaters against damage from corrosion, contamination, misapplication, improper specification or operating conditions beyond our control. NPH will suggest/recommend sheath materials and watt densities from time to time however, it is the responsibility of the purchaser and his engineer to make the ultimate choice of sheath material based on his knowledge of chemical composition of corrosive solution, character of materials entering the solution, and controls which he maintains on the process. Further, since NPH has no control over the use and sometimes misuse of the heaters, we cannot guarantee against burnouts.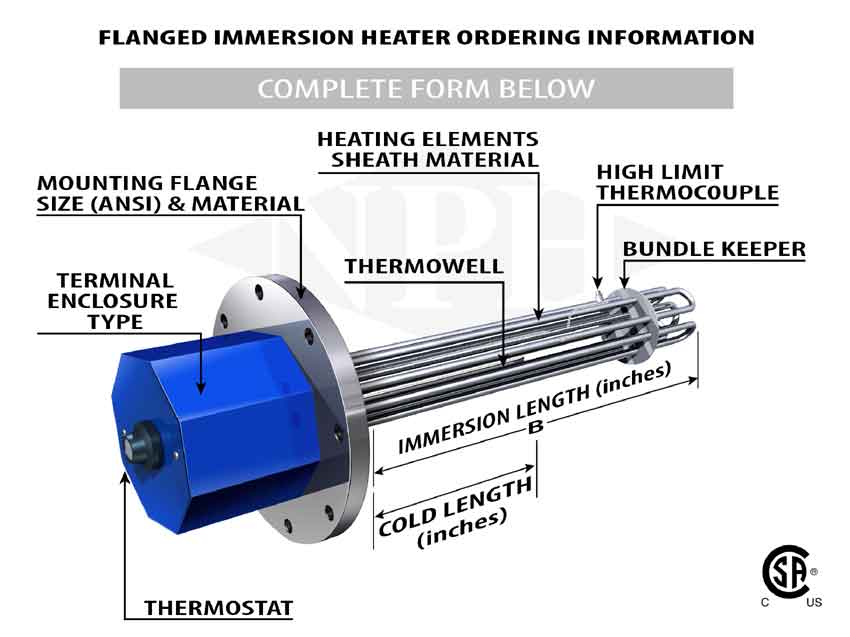 How To Order Flanged Immersion Heaters
(Please complete the fields below)

Flange Size and Number of Elements
Select Flange Size and Number of Elements3" Flange=7.5" Flange diameter with 3 elements in flange3" Flange with 6 elements in flange4" Flange=9" Flange diameter with 6 elements in flange4" Flange with 9 elements in flange5" Flange=10" Flange diameter with 6 elements in flange5" Flange with 9 elements in flange6" Flange=11" Flange diameter with 12 elements in flange6" Flange with 15 elements in flange8" Flange=13.5" Flange diameter with 18 elements in flange8" Flange with 21 elements in flange8" Flange with 24 elements in flange8" Flange with 27 elements in flange
Pressure Class
Select Pressure Class150lbs. pressure class300lbs. pressure class600lbs. pressure class1500lbs. pressure class
Flange Materials
Select Flange MaterialsCarbon Steel304/316 Stainless SteelTitanium
Sheath Material
Select Sheath MaterialCopper sheathIncoloy sheathSteel sheath304/316 Stainless Steel sheathTitanium sheath
Enclosure Type
Select Enclosure TypeNema1-General purpose enclosureNema4-Water tight & dust tightNema4x-Water tight, dust tight & corrosion resistantNema7-Explosiong proof, hazardous class1
"B" Dimension
Immersed length
Wattage (kw)
Select Wattage4.5kw6kw7.5kw9kw10.5kw12kw15kw18kw21kw22.5kw24kw30kw36kw45kwother
Voltage
Select Voltage120V240V480V600V
Phase
Select Phasesingle phasethree phase
Thermostat
Select Thermostatyes-10-120ºCno thermostat
Thermowell
Select Thermowellyesno
High Limit Thermocouple
Select High Limit T/Cyes-type "J"no T/C
Quantity
Select Quantity36122450100250500other

First Name
Last Name
Company Name
Position
Address
City/State/Province
Zip/Postal Code
Country
Phone Number
Fax Number
Toll Free Number
Email
Web Site
OEM Distributor Process User
Quotation Request
Select PriorityUrgent 3-8hrsASAP 8-36hrsModerate 4-7 daysNot Urgent 1-3 weeksFuture Reference 3-6 weeks
Required Delivery Date
Select Priority24-48hrs48-96hrs1-1½ weeksstandard 2-3 weeks
have a salesperson contact me