Starflex Band Heaters-Aluminum Alloy Heaters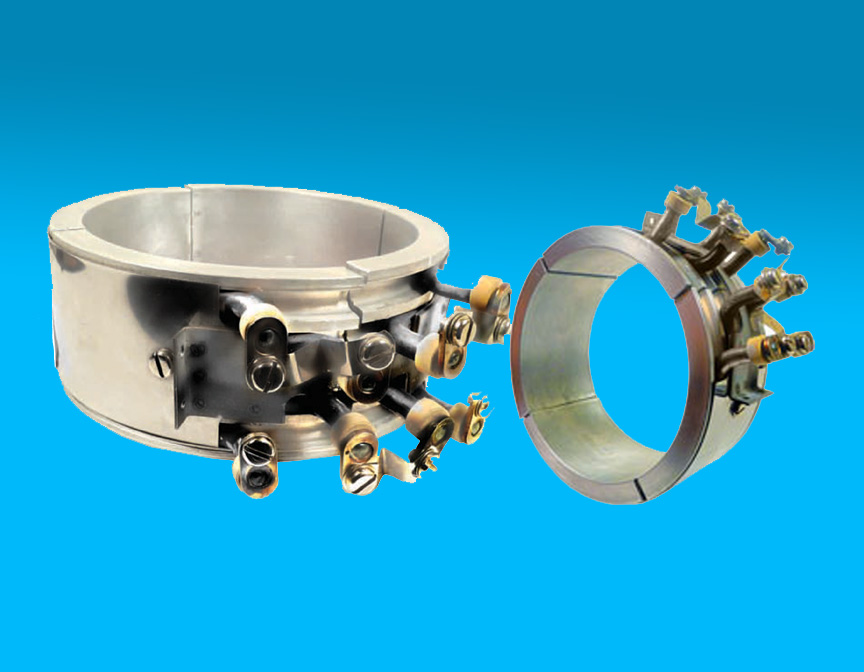 Starflex Band Heater
National Plastic Heater, Sensor and Controls Inc. Star-Flex Band Heater is an extruded aluminum segmented band employing rugged refractory insulated (MGO) tubular heating elements. The low expansion clamping band provides snug barrel fit and and assures excellent heat transfer through the entire operating temperature range up to maximum heater temperatures of 600°F. This band heater enjoys wide acceptance because of extremely long and reliable life characteristics. Operators of plastic extruders and injection molders experience minimum down-time with the Star-Flex band. It is also one of the most efficient band heaters available.
NPH Star-Flex Band Heaters
Some applications require both heating and cooling. With the advent of exothermic materials and heat generated by screw rotation, the proven National Plastic Heater Star-Flex band heater was adapted to provide both heating and cooling functions. Cooling tubes are placed in proximity to the heating elements to produce the NPH Star-Flex Heat/Cool band. Due to its low mass, it can be cooled relatively quickly.
Star-Flex Cool or Heat/Cool Bands​
Heat and cool with the same element. Our special heat/cool band enables you to circulate the refrigerant of your choice through the capillary tubes around the heater.
National Plastic Heater also supplies cool only bands in a configuration similar to the Heat/Cool band. It should be noted copper cooling tubes may be used for operating temperatures up to 350°F but temperatures above 350°F require the use of our stainless steel cooling tubes. Installation of these bands is easily performed by opening the band, placing it around the cylinder and tightening a single screw. Large diameter bands are furnished with multiple clamping assemblies and multiple segments from grasping the surface.
Heat & Cool Segmented Starflex Aluminum Alloy Band Heater
Cooling Only Starflex Aluminum Alloy Band Heater
These heaters are manufactured with a hydraulic press that inserts a high temperature heating element into a grooved aluminum channel. The heaters are clamped into place with stainless steel straps to maintain intimate contact with item to be heated. The aluminum channels are lightweight with high thermal conductivity for rapid heating. These same characteristics provide excellent cool down properties as well.

Starflex bands are also available with water cooling, both as a cool only band and a heat/cool band.

The heater bands can be opened completely, allowing easy installation and eliminating the need to remove other items from the barrel. Starflex band heaters have the durability of a cast-in heater at a fraction of the cost. This heater style can be made into strip heaters, box heaters, inside diameter heaters with reverse construction and partial coverage heaters. Heaters can be made with terminal boxes, fiberglass leads, flexible stainless steel conduit and thermocouple holes. Custom sizes and wattages are available.

NPH Starflex Band Heaters are designed for use in barrel heating of extrusion Starflex Band Heaters are designed for use in barrel heating of extrusion and injection molding machinery, blown film dies and other cylindrical surfaces.