Over-The-Side Immersion Heaters Guide-CSA/UL Listed Heaters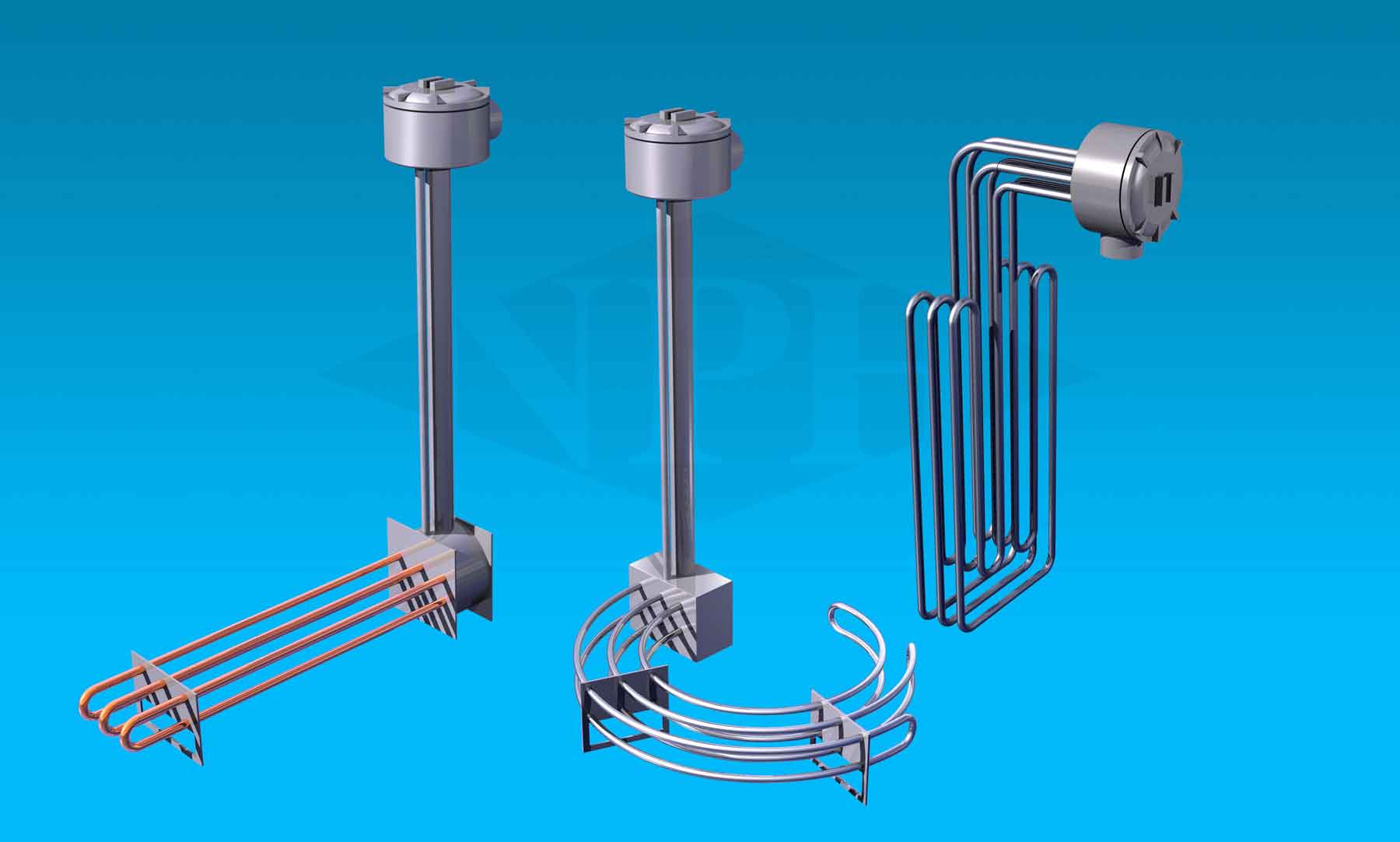 Industrial Tank/Vessel Immersion Heaters - Over-The-Side-Immersion-Heaters Product Guide Images
Product Description & Review Guide:
These CSA/UL listed Over-the-side immersion heaters are designed for vessels where through the side immersion heaters cannot be conveniently installed.
Over-the-side heaters are installed through the top of the vessel with the heated portion of the unit along the side or at the bottom of the tank
. Natural circulation of the fluid inside the vessel allows for even distribution. They take up little space, eliminate the need for tank penetrations, are easily removed for service, and provide ample working space inside the tank. Custom configured elements evenly distribute heat by direct contact in numerous applications, including acid and alkali solutions. Terminal houses or lead wires are provided for power connection.
These
immersion heaters are available with heating elements made of copper, steel, stainless steel
, cast iron, Incoloy, titanium, and PFA coated. A wide selection of kilowatt ratings, shapes and mounting methods are available to suit many different types of applications.
The large variation in heating element material and shapes of
over-the-side immersion heaters offers a wide selection in the application of these units
. Water, oils, solvent, plating baths, salts and acids are some of the many liquids and viscous materials commonly heated with immersion heaters.
Over-the-side heaters types permit portability, easy removal for cleaning of tanks and heaters
, and ample working area within the tank when installed.
Over-The-Side Immersion Heaters - Construction Components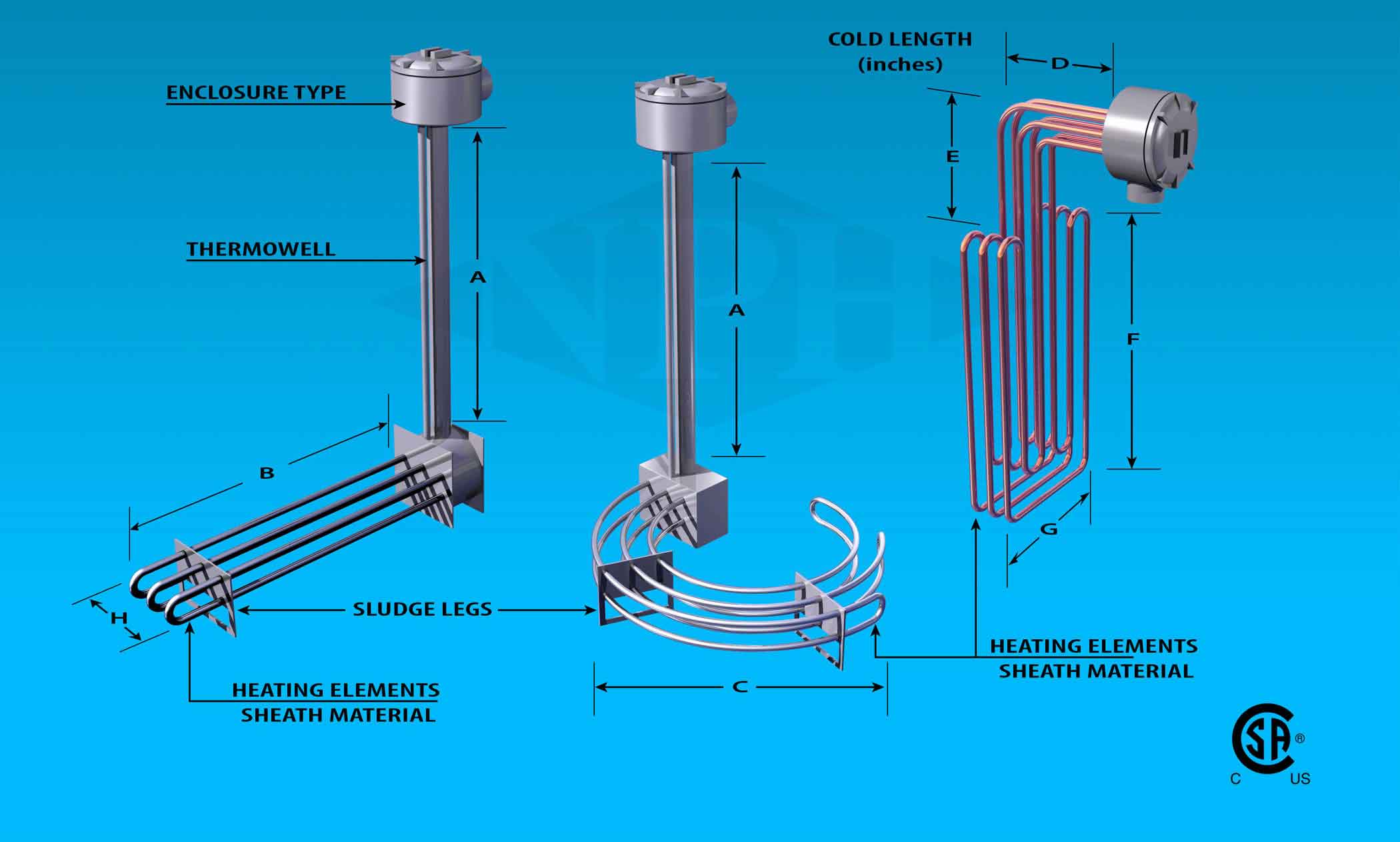 Over The Side Tubular Immersion Heaters
Over The Side Immersion Heaters: Specifications, Manuals,
Technical Letters & Tips:

Over The Side Immersion Heaters-Installation, Operation and Mainte.pdf

Hot Water Storage Tanks
Plating Baths
Heating & Preheating All Grades of Oil
Cleaning and Rinsing Tanks
Heat Transfer Systems
Sanitary
Corrosive Solutions
Freeze Protection of Fluids
Petro-Chemical
Mining Equipment
Environmental
Sewage Processing/Recycling/Water
Purification
Caustic Solutions
Standard Construction Features:
Elements Materials — Quartz, Teflon, Copper, Steel, 304/316 Stainless Steel, Incoloy, Titanium
Number of Elements — 1, 3, 6, 9
Element Diameter — 0.315" – 0.430"
Watt Density — 6.5, 15, 23, 45 W/in2
Optional Construction Styles - Over-The-Side Immersion Heaters
Optional Over-The Side Immersion Heaters Construction Styles:

Single Element CB -Single Element Shallow Tank Design Thermostat & Mounting Flange

Hanger copper blue cropped -Hangs over the lip of tank 3 elements design

Hang over lip single CB

9 Circle Elements Stacked CB -9 Element Design Stacked Thermostat for process control Sludge legs

6 Circle Element CB -6 Element Design stacked Thermostat for process control Sludge legs

6 Element Horizontal CB

6 Element Gooseneck CB

Single Element Shallow -Tank Design
High Conductivity Elements -
Filled with highest purity blends of magnesium oxide refractory (MgO) compacted to rock hard density to insure maximum thermal conductivity and maximum electrical resistance, and assure long element life.
Heavy Coil Construction - Watt density on the heating coil is designed for low watt density operation by increasing the coil diameter and length to give maximum coil surface area and limit coil surface temperature, providing longer coil life.
Common Industrial Heater Terminal Enclosure -Types:
Safe operation of heaters equipped with these enclosures depends on employment of electrical wiring meeting National Electric Code and limiting maximum operating temperatures (including temperatures on outside of vessel, piping, flanges, screw-plugs, enclosures and other heat conducting parts) as dictated by flammable liquids, vapors, or gases present. Approved pressure and/or temperature limiting controls must be used to assure safe operation in the event of system malfunction.
Common Nema Enclosure Types – See Link Below:
http://www.nphheaters.com/quote/industrial_process_heaters/technical_resource.htm#nema_enclosure
Terminal Enclosure Types - General purpose, sheet metal, (NEMA-1) painted with enamel. Moisture Resistant-Nema 4, Nema 4X, Explosion Proof Nema 7.
Grounding Connector Standard - A solid terminal connector is standard on all NPH immersion heaters insuring positive ground and personal safety.
Special Features Available:
Kilowatt Ratings – As required by user
Elements Materials - 316, 321, 347 stainless steel, Incoloy, Steel, Inconel. Other materials available, please contact NPH
National Plastic Heater Corrosion Policy:
NPH cannot warrant any electric immersion heater against failure by sheath corrosion if such failure is the result of operating conditions beyond the control of the heater manufacturer. It is the responsibility of the purchaser to make the ultimate choice of sheath material based on his knowledge of chemical composition of corrosive solution, character of materials entering the solution, and controls which he maintains on the process. * Not intended for use in hazardous locations.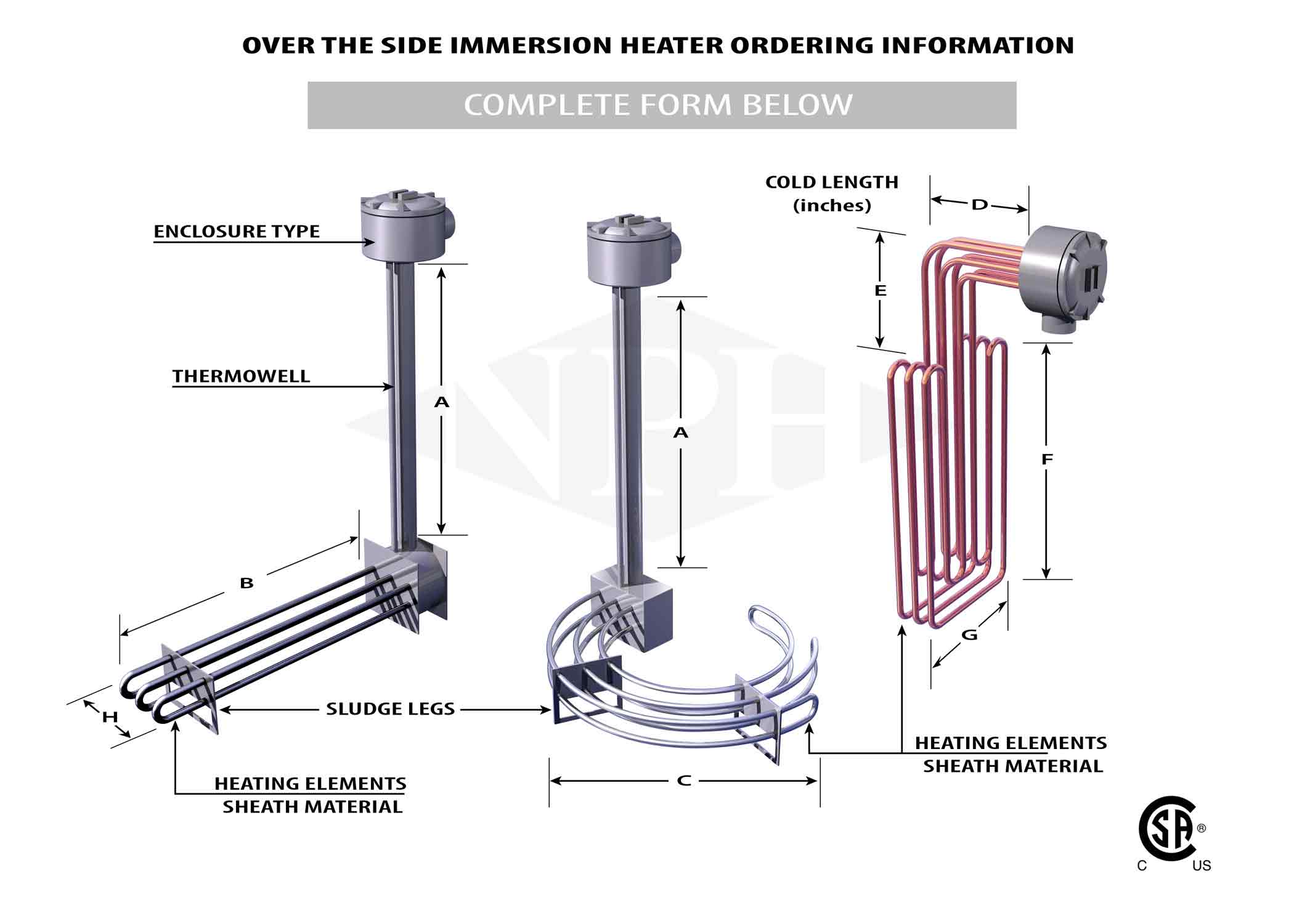 How To Order Over-The-Side Heaters