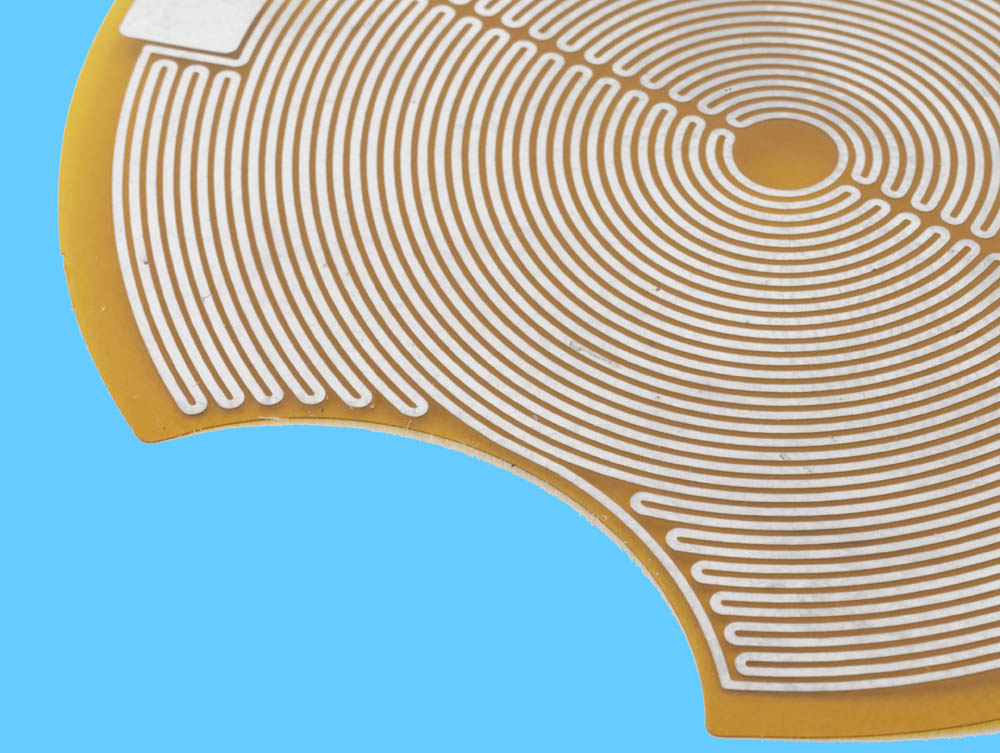 UL Listed Kapton (Polyimide) Film Heaters & Custom Kapton Heater Circuits For-3D Printers, Electronic Components, ATM's & Printers
What is Kapton™ (Polyimide) Film? Guide.
Kapton Film has been around since the late 1960's. Besides its great abrasion resistant properties polyimide film is an organic polymer that is suitable for extreme/harsh temperature environments. Typically from -319°F to +392°F (-195°C to +200°C). Polyimide film also has very high dielectric strength capabilities along with low outgassing properties making it suitable in vacuum environments. Along with the above, its flexibility, thin profile, low mass and precision/even heat distribution make it an excellent choice for etched foil kapton heater circuits.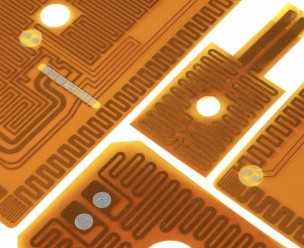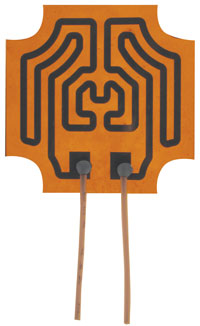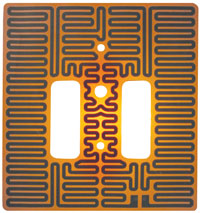 UL Listed Custom Etched Foil Kapton Heaters Kapton Polyimide Heaters Kapton Heater Circuits with Holes
Review, Product Description and Benefits of Bespoke Kapton (Polyimide) Film Heaters:
Kapton polyimide heater circuits are custom manufactured using etched foil track technology.
With etched foil kapton (polyimide) heaters, chemically etched resistive foils
are used. The advanced computer designed etched foil circuit pattern is then laminated or bonded between two sheets of polyimide insulating film.
Benefits of custom/bespoke and UL listed kapton (polyimide) etched foil film heaters are as follows:

The transparent polyimide film allows easy visual inspection of the internal etched foil track or circuit

Polyimide film is known for superior tensile strength and resistance

Kapton (Polyimide) Heaters are resistant to radiation and fungus
and hence can be used in commercial and
industrial applications

Kapton polyimide films ultra thin structure, light weight and small thermal mass transfers heat quickly
and evenly. It further allows installation in environments where space and weight contraints must be met

Custom (bespoke) kapton polyimide heaters
allow for higher power densities from 1W/sq. in to as high as 50W/sq. in.

Due to polyimide films excellent physical and electrical properties a thermal stability can be achieved
over wide temperature ranges

Kapton heater circuits
use advanced circuit imaging and printing combined with chemical
etching of the foil track which allows engineers and designers the flexibility to distribute
wattage, allow for precise heat distribution and create multiple heat patterns within
a single heater.

Kapton heaters
conform to almost any shape and are formable, flexible/bendable and bondable
to metalwork

Curled Kapton Polyimide Film Heater/Thermal Circuit
All
custom (bespoke) kapton (polyimide) film heaters
are built to order, but rush delivery is available. In most cases, NPH can deliver custom
kapton (polyimide) heater circuits
within 72-96 hours. All NPH flexible heaters are available with custom design modification. Custom designs are welcome. Please contact us with your requirements.
Kapton Film Circuits-Specifications, Manuals, Technical Letters & Tips:

Due to the above material properties and benefits, custom/bespoke kapton (polyimide) film heaters have a vast number of applications. It is this combination of useful properties at temperature extremes that makes Kapton® a unique industrial material. Listed below are just a few of the applications where kapton heater circuits are used.
Medical applications, typically requiring clean and sterile environments - Medical Imaging, Medical Diagnostic Instruments and Analyzers, MRI Equipment
All types of heating applications for electronic components - LCD displays, photocopiers and photographic equipment, ATM's, computer equipment, 3D printers
Evironmental control and maintenance of electronics - in telecommunications equipment (such as antenas, microvave repeaters and back-up battery systems), electrical panels and enclosures
Heating of Aerospace/Defence Instrumentation where low outgassing properties are required - Aviation instrumentation and personal comfort heating, Satellites, Spacecraft, Satellite Dish
Industrial Applications such as heating of Electronic Enclosures, Heaters for motors, cold storage equipment, freeze protection
Transportation - kapton heaters for Over the Road Truck and Railcar Freeze Protection, Battery and Oil Heating, Auto and Motorcycles
Applications in the Energy Industry - Fuel Cells, Battery Systems, Power Meters, Transmission Switches
Printing Equipment Industry, Optical and Photograghic equipment, cameras
The uses for
kapton polyimide film heaters
are infinite as they can suit any application requiring surface heating up to 200°C. Their suitability for arduous conditions has been proven in applications from polar expedition to space exploration. We are the final frontier in
polyimide film heaters
!
TEMPERATURE CONTROL FOR KAPTON (POLYIMIDE) FLEXIBLE HEATERS:
NPH kapton polyimde heaters can be supplied with factory fitted sensors and switches to suit all types of instrumentation. Available from stock are PT100's, J, K and T type thermocouples, bi-metal thermostats and thermal fuses. We also fit customer specified thermistors and other resistance temperature devices as well as extruded pockets for customers to fit their own sensors. Separate mechanical or digital thermostats can be supplied for process control.