1/8 DIN Fuzy Logic Digital Temperature Process Controllers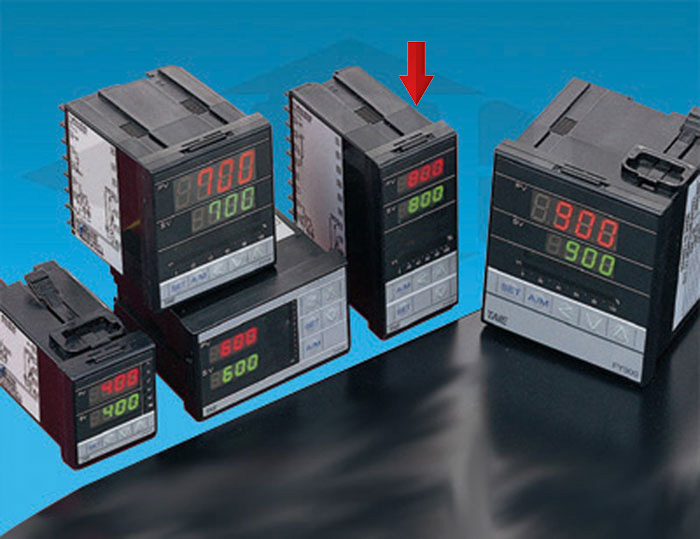 1/8 DIN Fuzy Logic Temperature Process Controllers
Fuzzy Logic 1/8 DIN Digital Temperature Controllers-Description
FuzzyLogic 1/8 DIN Temperature Controller Heat/Cool Controllers are designed to provide precise control with a quick and easy set up procedure. Microprocessor technology provides all these features plus reliability and economy. LED index indication allows full viewing and selection of parameters.
The dual display allows set point and process value visibility at all times. An advanced software algorithm automatically calculates all PID parameters to eliminate complicated manual tuning efforts. Automatic tuning can be bypassed if manual tuning
is preferred. An open-loop, manual mode can be initiated if the sensor fails. Front panel electronic calibration sensor linearization self-diagnostic capabilities and cold junction compensation are all performed by the single chip microprocessor. The in-panel depth is only 2-1/2".
FuzzyLogic 1/8 DIN Temperature Controller Heat/Cool Controllers Features:


Automatic tuning of PID parameters

Selectable input

Dual heating and/or cooling outputs with 2 alarms

ºF or ºC display. Dual display. Sealed mylar front panel

Security code protection, automatic manual mode operation

All control parameters adjustable from front panel

3 year warranty. 2-1 /2" in panel depth
1/8 DIN Fuzzy Logic Temperature Controls - Specifications Guide
Specifications-Fuzz Logic 1 /8 DIN Temperature Controller Heat/Cool Controllers:

INPUTS:
Thermocouple:
Type J,K.T.B.E,R,S,N selectable
RTD:
PT 100ohm (DIN or JIS)
Linear:
-10-60mV Configurable input or voltage or current
Display:
Temperature or engineering units
OUTPUTS:
Single output with 2 optional independent alarms
Heating and cooling outputs with 2 optional Alarms
Relay:
SPST relay rated 3A, 240V maximum resistive load
Pulsed Voltage:
32VDC,2OmA maximum ohms
Current:
4-20mA,0-20mA maximum load 500 ohms
Voltage:
0-10V minimum load 500K ohms
Alarms:
8 selectable modes each alarm
SPST relay(s) rated 2A, 240V maximum resistive load.
CONTROL FEATURES:
Temp Range:
Selectable Set Point: -1999-3182F/-1128-1750C
Alarm Set Point:
Full Range Adjustable
Control Modes:
Controls can be configured as On/Off Proportional (P)
Proportional with manual reset
Proportional/Integral (PI) Proportional
Derivative (PD)
Proportional/Integral/Derivative (PID)
Heating and Cooling Proportional Band: 0-100% of span
Integral (Reset):
0-3600 seconds
Derivative(Rate):
0-1000 seconds
Anti-Reset Wind-up:
Inhibits integral action outside of proportional band.
Cooling:
Adjustable deadband from-10 to + 10% of cooling proportional band
Manual Mode:
Configurable as open loop control should sensor no longer function
Cycle Time:
0-120 seconds
Sensor Break
Protection:
Configurable status of control and alarms
Control Action:
Selectable-Direct action for cooling Reverse action for heating
INDICATION:
Display:
4 digit red 5/8" LED Process Value Display, Green 1.2" LED Set Value display
Selectable decimal placement for normal or high resolution display
Example: 0000, 000.0, 00.00 or 0.000
ºF/
ºC:
Selectable with 2 LED indicators
Sample Rate:
250 milliseconds
Power Supply:
90-26OVAC, 50/60Hz Consumption: less than 5VA
Data Retention:
10 years (EEPROM)
Control Stability:
+ -0.15% of full scale
Accuracy:
+ -0.25% of range: + -1 c or 0.5C in high resolution
Cold Junction Compensation:
0.1% ambient
External Resistance:
100 ohms maximum
Common Mode Rejection
: 120dB
Normal Mode Rejection:
60dB
Input Impedance:
10M ohms
Operating Temperature:
14-122ºF (-10-50ºC)
Humidity:
0-90% RH(non-condensing)
Insulation:
20M ohm minimum (5OOVDC)
Breakdown:
2OOVAC, 50/60Hz 1 minute
Vibration:
10-55Hz amplitude 1 mm
Shock:
200m/c (20g)