Bolt Cartridge Heaters, Bolt Heaters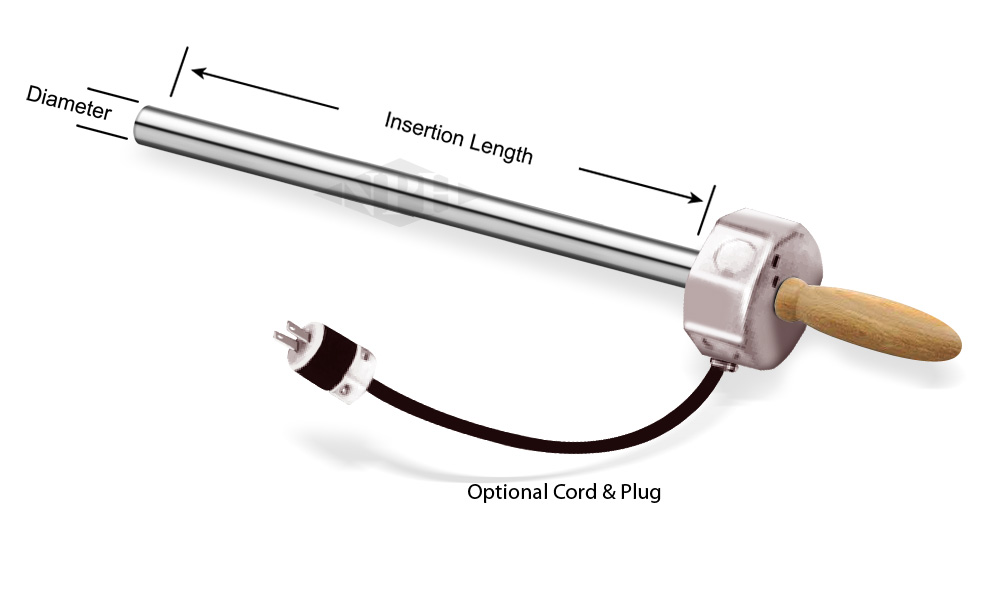 Bolt heaters are used to tighten large bolts that secure heavy machinery and equipment. The shaft of the heater is inserted into the hollow bolt and energized to expand it, which allows further tightening of the nut. Manufactured with a high watt density, they heat up in just a few minutes, resulting in cost savings on reduced man hours removing nuts from bolts and studs. Large bolts can be heated to full expansion in just a few minutes. This heater design is manufactured with specific diameter sheaths to fit industry standard hollow bolts. High watt densities with special heated lengths distribute heat evenly to surrounding bolt.
Features:
Part temperatures to 1400°F (760°C) on Incoloy sheath
Part temperatures to 1000°F
(540°C) on optional stainless steel sheath
Nickel-chromium resistance wire, precisely wound and centered in the unit, assures even, efficient distribution of heat to the sheath
Conductor pins metallurgically bonded to the resistance wire ensure trouble-free electrical continuity
Magnesium oxide insulation of specific grain and purity, swaged to the proper density, results in high dielectric strength and contributes to faster heat-up
Incoloy sheath resists oxidation and corrosion from many chemicals, heat and atmospheres
Minimal spacing between the element wire and sheath results in lower internal temperature, giving you the ability to design with fewer or smaller heaters that operate at higher watt densities
Specifications:
The hole diameter should be as close to heater diameter as possible, but within approximately 1/16" (.062) clearance for insertion applications. Close tolerance permits maximum heat transfer and prolonged heater life.
Additional Options:
Typical sizes for electric bolt heaters include: .250", .375", .438", .500", .550", .688", .781", .813", .938", 1", and 1.250". If you do not see the size you need here, contact us and we will make it for you.
Applications:
Power Plants
Ship Yards
Press and Die Manufactures
Constructions Contractor
Boiler Manufactures
Bolt Cartridge Heaters Selection Guide
The key questions which need to be answered before selecting a cartridge heater for your application are:
How much wattage is required?
What voltage will be used?
What is the heated length? What is the overall length?
How long are the heater leads or what is the lead length required?
What is the dimentions of the cartridge heater?
What is the ambient temperature the cartridge heater will see?
What is the maximum temperature required from the heater?
How quickly do you want to reach your operating temperature or set point in hour/minutes?
What is the type and weight (in lbs.) of the material you want to heat?
Special Modifications
How To Order Cartridge Heaters